Subscribe:
News
12-13-2016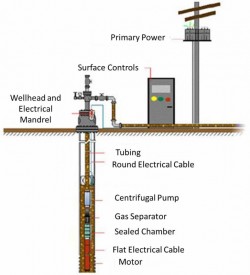 Motor Assembly:

The motor assembly is used to power the pumps. They are offered in a variety of diameters, horsepower ratings, and operating ranges. Motors are selected based on the amount of power needed to operate the pump and lift the desired volume of fluid from the wellbore.

Sealed Chamber Section:

The sealed chamber section is located between the motor and the pumps. Its main functions are to reduce thrust generated by the pumps, protect the motor from well fluids, store the motor fluids, and equalize pressures between the well and the motor. Seal sections are offered in a variety of configurations and can be upgraded to fit the specific application.

Multi-Staged Centrifugal Pumps:

The pumps are comprised of a series of rotating impellers and stationary diffusers that utilize centrifugal force to lift hydrocarbons from the wellbore. As fluid moves through the rotating impellers velocity increases which is converted to pressure at the stationary diffusers. This process is repeated throughout each stage of the pump until there is sufficient energy to transfer the fluid to the surface.

Gas Separator:

To minimize gas interference issues, gas separators are installed in the system to aid with natural separation while imparting mechanical separation so that the gas enters the annulus before reaching the pump. A variety of gas separator configurations are offered to help optimize the entire system.

Electrical Cable:

The electrical cable transmits power from the surface to the motor assembly used to power the pumps. Several types of electrical cable are available, and are selected based on the amount of power required and the environmental conditions of the wellbore.

Surface Control Equipment:

The surface control equipment maintains the adequate flow of electricity transmitted down the electrical cable to power the system. Variable speed drive (VSD) controllers are commonly used to display the data transmitted by the downhole sensor where necessary changes can be made to ensure the system is operating efficiently.

Optional Components:

A variety of optional equipment and component upgrades are available to help optimize production performance no matter what wellbore geometry or environment the ESP is applied.
Click here to read more ...